And here some info. on my bikes from this millenium ...
---

| | |
| --- | --- |
| | The never finished Evo-chopper: |
| Engine: | 1984 Evo/Blockhead, more or less stock. |
| Carburator: | Modified Sportster CV bought on Ebay. |
| Exhaustpipes: | Found in a scrap container, rewelded into shotguns. Chrome shields from swap meet. Total cost 30 NOK/ 6 $ |
| Gearbox: | 4-speed Super Glide, high Andrews 1.st gear. Kickstart, of course! |
| Primary: | 1.5 toms Phase III belt with tin primary cover |
| Frame: | Very modified and re-welded stock bentleg frame with 48 degrees rake og 4,5 inches of stretch, adapted to the Evo-engine. |
| Front end: | My own design, prototype made by Calles Chopperdelar in 1990. 4 degrees of rake, conical rear legs, Koni shocks, change between different lenghts of front and rear legs, 29,5 over stock (30 inches are too long for me :- ) |
| Oil tank: | Made in Home, oil filter and fittings from a H-D oiltank from the seventies. Horseshoe type, metalsheet bent over my knee... |
| Front wheel: | 3.00 x 19 Avon speedmaster with single disc and a Brembo caliper. |
| Rear wheel: | 165 x 15 car tire, mechanical drum brake. |
| Seat: | Made in Home. |
| Sissy bar: | Made in Home. |
| Fenders : | Modified 6" flatfender. Frontfender = not on choppers. |
| Headlight: | Hella tractor headlight. Who is Bates, anyway??? |
(2008) My main bike. Anyway, this bike is now in it's fifth edition since I started building it in 1984 but it has never reached the stage of a completely finished bike. When the spring arrives all the parts are usually thrown toghether again - and out on the road !
In autumn 1983 Hot Bike magazine was the first, to my knowledge, to show the new H-D Blockhead, or Evolution engine to the public. My Panhead was sold and I was thinking of buying the 120 cid. Harmann-engine or the 1/4 V8 Chevy, the Super Cycle engine for a new bike. Instead I ordered the new Evo and got it in march 1984, the first Evo-motor in Norway, together with some new bikes in the same container. The old bentleg-frame was modified to give place for the bigger than Panhead-engine. Cool to have a Evo-chopper the next 2 years or so, but after a while it became common in choppers.
When my workshop which I'm building at home is ready and I have an extra Harley or two on the road this bike will be completely rebuilt - again.
The springer front-end is my own design where the front and rear legs can be changed for shorter or longer versions. This lenght is estethical too long for this frames' rake & stretch, but it works fine both in town or on longer weekend tours. The bike is ridden in all kind of weather execpt in snow. I prefer a mix of Low Tech and No-Tech - owner built, functional and affordable: the old biker way of doing things ! As mentioned I do not have the extra needed spare-time to do all the work which make the bike stand-out. 3 kids in elementary school and my wife and me with 3 parents/parents in law who needs help and support, and my club/organizations/web works eats most of my spare time.

---

(2008) My projects: Well, I hope to live for some hundred more years. Then I will have the time for my other bikes which are everything from basket-cases to rolling projects. They are bought cheap, mostly as bikes imported to Norway some years ago but never registrated with license plates - and thus given up by their owners. These four are: XLCH kick-only, 1200 Panhead (nicest Harley-engine ever), 1520 Early Shovelhead (soon to be a complete bike), and another good ol' Ironhead Sportster, an XLA (Yes, a former Army Sportster !). The Ironheads were the superbikes of the sixties and Harley-Davidson used them for racing. All projects are to be customs and/or choppers of course. I also have 2 Plymouth Dusters and a 1970 Ford Econoline van who needs some attention. Madness could be the right word here but - who cares ... ? More about these bikes later. And so far the total cost for all bikes including parts and rebuilds through all years is the same value as a 5 to 10 year old Big Twin, which I think is way too expensive ...

---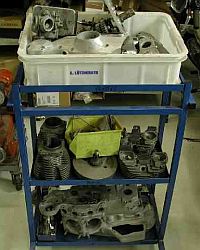 (2006) And here's another project which I bought very cheap - the grand-father of all basketcase projects. An Ironhead Sportster from 1971 with clean papers. The very last year with the 55 cid/900 engine and the new engineblock, the same mix as the first Electra in 1965 but still with Panhead cylinders and heads. I had to buy lots of missing parts for this XL but it became close to complete at last. This could be a dirt cheap Sportster on the road, but it could be more expensive if one wanted to make it in top condition. But it was sold after a few years to pay of that Econoline.

---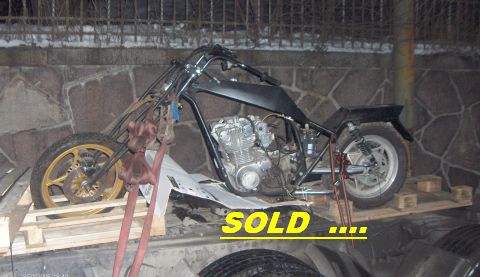 (2004) This is the cool bike! Originally a 1977 Suzuki GS 750 bought dirt-cheap in 1983 when those few bikers around at that time swapped their british or japanese choppers with Harleys. I think "Trends sucks!" and went the other way. In the second half of the seventies the Bay Area lowriders, or digger-bikes, became popular. I knew only one of that style built in Norway, by Kalle in the 1 %'ers club. That was my inspiration for this Suki, and I had an Ironhead Sportster engine which later could fit into that frame. That mix could be named Haruki GS XL, or something ??? But somehow it always came second to my Harley, and with an increasing numbers of Harley projects the bike was sold. I miss it though. It was a truly "dare to be different" bike.

---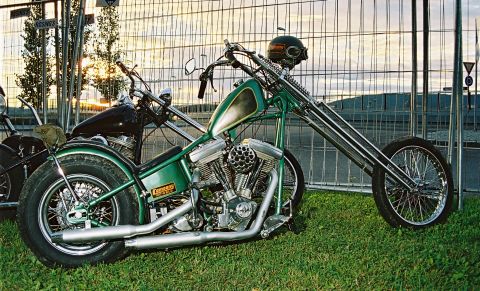 (2002) Some modifications were done some years ago. The Evo was given a small clean up including a rather exclusive paint job with spray bottles which cost me 20 or 30 dollars, a new home made seat, a tin primary bought from swap-meets and some other minor changes. See more pix's from the 90's and decades before that on the menu at left.

---