Chopperwebs scandinavian clubregisters
Intropage to the scandinavian bikerclub registers:
Updated from april 9 2017 - some clubs with icons:

Klubb med ukjent status / Do the club exist anymore?

Klubb med feil adresse / Club with wrong address

Please mail me about updates ! I'm rarely on Facebook and do not check messages there.

Make me and others happy !
Show off your cool bikes from clubmembers on your websites ...
Remember: this is CHOPPERweb - not a HOG-site.
BIKER - the first 4 characters says BIKE !

Here you will find registers for bikerclubs in Norway, Sweden and Finland updated by me, and a link to a register in Denmark.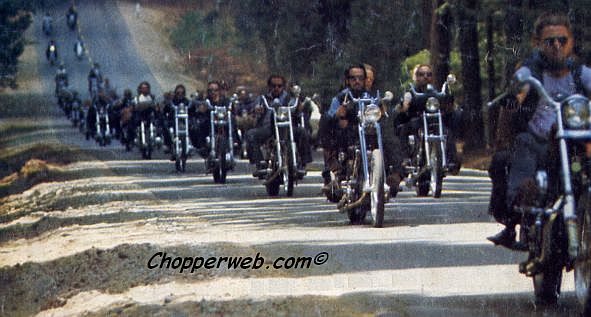 I have been updating the norwegian and swedish registers since the mid-eighties for my club Company MC Oslo and later also for H-DOCN (Harley-Davidson Owners Club of Norway). Most all of the clubs here are patch-holders and wear their colors with pride, have their own club house, and you have to be a probationary or prospective member for some time before getting a fulltime membership. Some garageteams are also here.
They rides choppers, bobbers, custombikes (the REAL STUFF - not massproduced standard bikes !!!), Harleys, and to some degree classic british irons.
You will find names, addresses, links and more to these clubs. If you wonder, this is an old scandinavian bikertradition not to hide your club away.
If you're travelling around on your bike, print out the list and you will always know where to find brothers.

The text in the respective registers are in their native language.

(Info. added oct. 19. 2004) And - all the clubregisters have their html-code encrypted to protect the email-addresses there from being collected by webrobots(programs) crawling around in internet gathering email-addresses for spam-users.


This is the Webmaster ...